Mowing a lawn on one of the roughest terrains – boulders, rock outcroppings, hills, and steep slopes might be one of the biggest lawncare challenges you take on.
And though the results of getting the work done are richly rewarding, we've got to admit that using a push or an inefficient mower will leave you sore for days, and that might make you hate all future mowing experiences.
But that doesn't have to be the case because there's something out there for everything and everyone, and this statement is true for rough terrains and lawnmowers. For perfectly manicured lawns on rugged and rough terrains, there are powerful riding mowers designed with the power to handle these tough terrains smoothly.
These mowers are quite easy to steer around even on the bumpiest of hills and your sloppy gardens, and they promise the best level of trimming to your desire length.
These riding lawnmowers, also called ride-on mowers offer a strong, but just enough amount of propulsive force whenever you climb the hilly side of the lawn, whether in your garden or out on the golf course.
So, thanks to the design of these mowers, they are also excellent for an elderly gardener or anyone who doesn't have the strength to push the mower up the hill, as well as persons and companies with colossal lawns that cannot be handled by push-reel or the smaller gas-powered lawnmowers.
So, which are the best options for riding lawn mowers for mowing rough terrain areas/ lawns?
Best Riding Lawnmowers for Rough Terrain
---
1. Husqvarna MZ61 Zero Turn Riding Mower
At the top of our list is this Husqvarna MZ61, a high-end, top performance, and the best zero-turn riding lawnmower which has been designed to handle rough terrain areas with great ease, all thanks to its overall design, as well as the incorporation of a roll-over protection function.
It's quite reliable, and with Husqvarna being one of the most reputable lawnmower brands on the market, you cannot go wrong with this investment. As mentioned above, the biggest reason why this mower is an excellent option for rough terrains is that it comes with a roll-over protection function.
This protection system is designed to ensure your utmost protection from in case you get injured, should the mower roll-over, for example, fit the COG is too close to the rear of the mower or if the COG is just too high. On top of this, protection is enhanced by the sturdily designed U-Shaped steel frame located at the rear of the mower.
This steel frame lowers the chances of the mower ever rolling over at a 180-degree angle. But you should avoid using this high-speed mower on too steep and uneven ground.
This mower will trim the lawn on uneven areas effortlessly and in a very short time thanks to the 61-inch cutting deck (hence MZ61), which means that with its large cutting diameter, the mower allows you to get through as much as 4.2 acres in an hour. Theoretically, if your lawn is an acre big, you will be done in about one.
It might take slightly longer if the terrain is bumpy since you have to slow down this high-sped mower, but even at slow or very highs speeds, you'll still get the work done on the uphill and downhill areas because the mower maintains great contact between the ground and the cutting deck, at all times.
The other reason why this is our best recommendation is that the zero-turn mower design means easy turns around the lawn and the highest level of maneuverability around obstructions, including bumpy terrain. It also saves time since you don't have to more some areas to get all the grass.
Fitted with a comfortable, high-back chair, you can mow for hours comfortably, and with the extra padding on the armrests and the chair, there's reduced vibration, especially when mowing on uneven surfaces.
So, if you struggle with chronic health disorders or back pain, this mower would be a great investment for you, especially if you still prefer getting your hands dirty.
Finally, it's worth noting that this mower is one of the most powerful options on the market as it boasts a powerful 24HP engine; it has a 5-gallon fuel capacity, a smooth hydrostatic transmission, and a high mowing speed of 8MPH.
Pros
Powerful engine
High mowing speed
Highly maneuverable
Roll-over protection
Zero-turn radius for fast mowing
Comfortable high-back seat with and padded armrests
Large 61-inch cutting deck
Adjustable cutting heights
Great mowing efficiency
Cons
It's huge, and it takes up a lot of storage space
It's expensive
Not safe for use on very steep areas
---
2. Troy-Bilt 540cc 46-inch Riding Lawn Tractor
Next on our list is this gas-powered Troy-Bilt lawn tractor that comes with a 2-year warranty and sports a powerful 540cc engine. This lawn tractor is one of the best mowers for use in rough terrain lawns as it is designed with all the features needed to keep the mower stable on rough and unpredictable areas while delivering clean cuts consistently and fast.
For starts, the mower boasts a front center of gravity that allows for easy uphill climbing.
The front COG is made possible by the steering, the wheels, seat, and the entire housing of the mower, not to mention the positioning of the 540cc engine and all the heavy parts of this mower at the front.
As a result, this mower is least likely to topped over on uphill rides. So, if you are looking for a mower for use on rough terrain areas, the first consideration you might want to keep in mind is its COG at the front, a common feature with mowers that sport a heavy and bulky front.
The other feature that makes this mower and ideal option for use on rough terrain is its large wheels – 20-inch rear wheels and 15-inch front wheels, which offer great traction on uneven terrain.
Keep in mind that if you chose to use a relatively lightweight self-propelled mower, it might easily bump in uneven areas, increasing the risk of injury and also inconsistent contact and mowing.
This riding mower, on the other hand, ensures great contact of the rotary blades and the wheels with the uneven ground, hence consistent mowing.
Then you have a comfortable seat that allows you to keep mowing comfortably for hours, the 46-inch cutting deck, which allows you to easily mow large areas of the lawn, and the engine which drives the blades and the cutting deck to ensure clean-cut and perfectly manicured lawn.
And on top of all that, the mower also mows in reverse, meaning you won't have to worry about missing some spots just because the mower is an 18-inch turning radius mower and not a zero-turn-radius mower.
Finally, you have the bright LED headlights, which allows easy mowing as it grows darker because all bumps will be well-illuminated. It has a 1.36-gallon capacity.
Pros
Smooth foot-operated automatic CVT transmission
High mowing speed of 5.2MPH
Large 46-inch cutting deck
Powerful 540cc engine for powerful, sharp, and consistent cuts
Comfortable and soft-touch steering which reduces vibrations
5-adjustable cutting lengths with the 46-inch cutting deck
Sturdy wheels with great traction
Works great on hilly lawns
Easy to operate
It comes with an integrated deck wash system
Cons
The mid-back seat doesn't offer all the support you may need, and it feels uncomfortable after some time
It might not be as fast as you'd want it to be
---
3. Husqvarna LTH1738 Loncin Hydrostatic Gas-Powered Riding Lawn Mower
If you are on a tight budget but need a compact and sturdy mower that will allow you to mow over the uneven and hilly parts of your lawn, then this Husqvarna LTH1738 might be a great option for you.
This mower is also an excellent option for anyone who doesn't need too much mowing speed.
It's affordable, and its front-engine design makes it the perfect option for mowing lawns on hilly areas. Like the Troy-Bilt mower reviewed above, the front engine design means a reduced chance of rollovers, as long as the lawn isn't on an extremely steep area, and if you don't plan on accelerating downhill.
Its 17HP engine ensures good-quality and consistent mowing, and with the 38-inch cutting deck with adjustable cutting heights, the comfortable chair, smooth and padded steering, and the sturdy reinforced steel deck, this mower is ideal for medium-sized lawn with rough areas.
Pros
Affordable
38-inch cutting deck
Comfortable steering
Reliable 17HP engine
5-gallon capacity
Air induction technology for great lifts and perfect cuts
16-inch turning radius hence an increased level of maneuverability
Cons
It's heavy, and it takes up a bit of space
---
4. Husqvarna Z254 54 in. 26 HP Kohler Hydrostatic Zero-Turn Riding Mower
With its front-engine design, the sturdy reinforced steel 54-inch cutting deck, its 26HP engine, a tuff torq, and the smooth pedal-operated hydrostatic transmission, this zero-turn mower is one of the most versatile mowers on the market and given its overall design, plus the design of its wheels; it's a powerful mower that makes an excellent fit for you if you need a mower that runs smoothly on rough ground.
Although you have to reduce the mowing speed of the mower on rugged terrain, this mower boasts a high mowing speed of 6.5MPH, and the deck handles the clippings by discharging them on the side, but you could also have the clippings mulched or bagged if you buy a separate mulch/ bagging kit. It also delivers super-level cuts thanks to the air induction technology features incorporated into the design of this mower.
Pros
Powerful 26HP engine for fast mowing and scissor-action cutting of tough grass
It's durable thanks to the reinforced steel cutting deck
Wide 54-inch cutting deck for fast mowing
Front engine and front heavy parts design enhance its maneuverability on and uneven ground
Ease of use
Great rear and front wheels for traction
The zero-turn design saves time
Cons
It's pricey
Issues with warranty repairs
No headlights
---
5. Craftsman T225 19HP 46-Inch Gas-Powered Riding Mower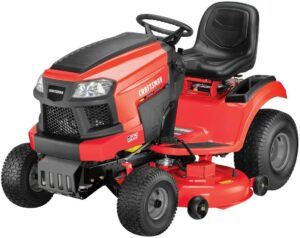 It comes with a cover, but that is not the main reason why we are considering this lawnmower. The main reason why you might like this mower is that it's designed for use on golf courses, and that means that it works great on uneven ground. This mower is quite powerful, and it will get through the gigantic 18-hole turf with ease.
It's one of the safest riding mowers for use on uneven terrain, thanks to its large rear wheels, as well as the front-engine design, meaning that the mower will not roll easily because its front is heavier than the rear.
The large wheels at the rear will also stabilize the mower on hilly areas. The performance of this mower is further enhanced by the wide 46-inch cutting deck, as well as the gas-powered engine.
Pros
Large cutting deck for great cutting efficiency
Ease of use
Safety enhanced by the front-engine design and the large rear wheels
Powerful 19HP Briggs & Stratton engine
It has a mow-in-reverse function for enhanced mowing flexibility
Cons
You'll need to refuel it a number of times to get through a large lawn or golf-course
Emissions
Unfamiliar positioning of the safety features
---
6. Ryobi 38-inch Rear Engine Riding Lawn Mower
The best mower for rough terrains is ideally the one with a front-positioned engine. But that doesn't mean that you cannot use this mower over uneven terrain.
This 38-inch Ryobi mower has been designed for use on uneven ground, especially by beginners, because it offers better control, thanks to the electric-powered design. In addition to its eco-friendliness and its 2-hour runtime, the mower has 12-cutting heights; it works great on medium-sized and large mows.
And on uneven or bumpy areas, the mower would ensure more consistent cuts through the reduction of its battery life on even ground, leaving you with more power as you drive up the hilly bumps.
Pros
It boasts a compact size for easy storage
LED headlights for use at night and for illumination of bumps
Easy recharge via a 120V outlet
Ideal for medium-sized and large lawns
Intuitive battery management
2-hours runtime
2 cutting blades
It runs quietly
38-inch cutting deck for high mowing efficiency
Cons
It lacks a suspension system
The steering rack is squeaky
---
7. Snapper 2911525BVE RER Rear-Engine Riding Mower
Another rear engine riding mower, this 28-inch Snapper would be an ideal option for you if you need a powerful mower to use on your lawn, especially it isn't too bumpy.
It sports a powerful 11.5HP Briggs & Stratton engine, specifically a 4-cycle OHV engine, which runs very quietly, and you won't feel much of the vibration that's often felt at the steering wheel.
This mower will be a great option for you if your lawn is less than an acre because it delivers more than enough power, and with its compact size, it will maneuver the bumpy areas with ease.
The wheels also make it easy for the mowing of the uneven areas thanks to their durability and grip, as well as its wide base, which offers the friction needed between the tires for more safety and control.
Pros
Compact and saves space
Ideal for small/ medium-sized, and uneven yards
Reliable 11.5HP 4-cycle OHV engine
Rear tires offer great traction
Relatively high mowing speed of 4.5MPH
28-inch cutting deck
Variable 5-speed system
Cons
The safety feature takes a bit of time getting used to
No headlights
---
8. Ariens Zoom Zero Turn Lawn Mower
If you have a farm or a lawn set on hilly ground, you need to invest in one of the most powerful, flexible, maneuverable, safe, and heavy-duty mowers, and this zero-turn Ariens Zoom 34 mower fits the bill quite well.
Its 34-inch wide cutting deck, the wide rear wheels, and the front-engine design of the mower give this machine a great deal of stability, as well the power and the maneuverability to mow through the uneven areas with ease.
Its engine is a robust and a beasty 660cc/ 19HP mower that mows uphill with ease, and without the need for extra propulsion. Add that to the ergonomic design of the mower, as well as the foot-operated cutting deck-lift system, and the comfortable padded seat, and you have a machine you can sit on and steer for hours on different terrains, comfortably.
Pros
Powerful 19HP Kohler engine
6MPH mowing speed
Variable cutting height
2-gallon capacity
Front-engine design
Large rear wheels
Comfortable, padded seat
Cons
No headlights
No mulch or bagging kits
---
9. Snapper 2691319 360z Mower
With its powerful 23H front-engine, the 48-inch cutting deck made of sturdy and fully-welded frames, at thick-walled front-axle, and the large rear wheels this zero-turn Snapper riding mower offers all the power and versatility you need in riding for use on rough ground.
These features give the mower the stability and control features needed to keep the mower running smoothly on uneven ground.
Pros
Durable fabrication
Large deck and powerful motor for high-performance on large lawns
Zero-turn design for great maneuverability
Ease of use and control
Adjustable cutting width
Rear-cargo bed to carry accessories on flat areas
Cons
Little side to side movement from the hanging deck
---
10. Husqvarna RedMax RZT54 Deck Riding Zero-Turn Mower 
Husqvarna is a very reputable brand in the world of lawnmowers, and this RedMax is one of the popular, high-performance mowers offered for use on rough ground.
It comes with a powerful 24HP Kawasaki engine and a 54-inch cutting deck, both designed to boost the front weight and the control of the mower over large and bumpy lawns. Its high-back seat offers comfort, the large and wide rear wheels boost its control while offering traction, and the zero-turn increases its maneuverability.
Pros
Powerful
Ideal for use on large lawns with uneven ground
Ease of operation
Great maneuverability
Efficient cutting deck
Adjustable cutting heights
Cons
Expensive
Unpopular model
---
Conclusion
To select the best riding lawn mower for rough ground, you need to keep in mind features like advanced braking and rollover protection, smooth and easy to control transmission, large width of the cutting deck, variable speed settings,  relatively large tank capacity, powerful engines, a low turning radius, and ergonomic riding design.
These features work together to ensure the best performance of the mower, over rugged and rough terrains. The mowers reviewed above offer most of these features, making them some of the best riding lawnmowers for rough ground on the market.